St. Anne's Conway: Our Story
In the fall of 2012, two dozen Episcopalians met in a living room in Conway, South Carolina, determined that the Episcopal Church would not disappear from this region, a casualty of controversy and politics. Stories of church divisions sometimes end unhappily. A fe w loud disagreements among Christians can undo --in the eyes of the skeptical world-- a thousand quiet good works and years of Christian witness.

But something wonderful happened. In a borrowed worship space, with an improvised altar, a loaner communion kit, and a few prayer books, we were reminded how simple this is supposed to be.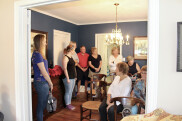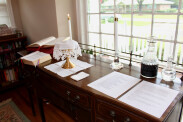 No longer able to rely on a professional staff, volunteers took up the work. Without any permanent clergy, the lay people ministered to each other. With no social hall, we stood in the grass, gathered in kitchens, or pulled extra chairs onto back porches. It was all hands on deck in a community that was called "Conway Worship Group" (and "St. Nobody's" when we indulged in self-pity).

But we were not without resources. We were to be able to rent Lackey Chapel at Coastal Carolina University, a beautiful, simple space built for the use of all faiths, but somehow equipped with Episcopalian-friendly kneelers.


Individual parishioners felt a sense of ownership in the new enterprise, and there was (and still is!) a homely and genuine feeling to our Sundays. Collection baskets were, literally, baskets taken from somebody's closet shelf. Yet without the hint of a stewardship campaign, those baskets were filled. For our first baptism, a large porcelain bowl served as a font. The christening pitcher had spent most of its useful life as a means to serve sweet tea, but it did the job that Sunday. A tin cross came in from somebody's yard to turn a table into an altar.

An altar guild sprang up; among out little group we had just enough lectors, chalice-bearers, acolytes and ushers. It seemed that half the church could sing, and the other half was willing to croak, bleat, or holler as best they could, so a music ministry mushroomed forth, leading to a choir so good we are willing to risk the sin of pride to give it its due.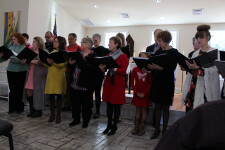 There may be times when denominational affiliation gets in the way of Christian life, but in those early weeks and months we felt the Episcopal Church like a wind at our backs. Holy Cross Faith Memorial Episcopal Church in Pawley's Island shared their expertise and extended a steadying hand. St. Stephen's in Heathsville,Virginia and the Episcopal Diocese of Fort Worth sent liturgical items. The Bible and Common Prayer Book Society of the Episcopal Church sent copies of The Book of Common Prayer. Priests from hundreds of miles around offered to come to Conway and lead services. We shrugged off the irony that a local church split bound us to brothers and sisters we'd never met.

Eventually we found a name. A parishioner with a long memory recalled that at Coastal Carolina University there had been an Episcopal ministry called "St. Anne's Chapel" in the 1980's. The college group faded away decades ago, but that slim thread of heritage was enough of a sign, as was the story of St. Anne herself; tradition says that the grandmother of Christ was aged and barren when she cried to the Lord and asked for a child.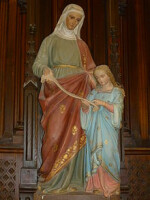 But we wouldn't be worth much if ours was just a tale of self-congratulation. Nor would we be much of a parish if we existed simply to perpetuate an outpost of our denomination. The reason we think we're on to something at St. Anne's is that each week new faces appear, many of them blissfully ignorant of our recent church controversies differences. Just folks looking for a place to pray and sing and ask questions and experience the weekly miracle of the Eucharist. Our two dozen has doubled and re-doubled, but we remain a cheerful, good-humored, earnest group -- no "frozen chosen" as far as we can tell, we prefer to think of ourselves as the "thawed flawed!"


We haven't had much time to spare for the politics and the headlines that sometimes expose the flaws of organized Christianity. We get along not because we're particularly virtuous (when it comes to feet of clay, ours are thick with the stuff!). No, we get along because that thing your grandmother told you about "idle hands" is true. Improvising "church" each week, ministering to each other, finding our work in the world...let's just say at St. Anne's there are few idle hands.
We need them to pass out hymnals, distribute the Sacrament, and -- on occasion -- to raise a toast!

We don't pretend that our parish doesn't have its origins in theological controversy. It is because of our origin story -- we began in the midst of an ecclesiastical divorce -- that we cherish the community we've built and will keep building, God willing. Whenever we get together, we are reminded that the best outcomes can spring from loss.

That's what resurrection means.