Our Diocese
St. Anne's is proud to be a part of the Diocese of South Carolina, one of the oldest dioceses in the United States. The Episcopal Church in South Carolina traces its history back to the first missionary priests sent to America by the diocese of London in the seventeenth century. In 1789, the diocese helped to found the Episcopal Church in the United States, and throughout its history, the Episcopal Church in South Carolina has played an important role in both the spiritual and civic life of the people of South Carolina.
We share the work of spreading the gospel of Jesus Christ with the more than forty parishes, missions, and worship groups that make up the diocese.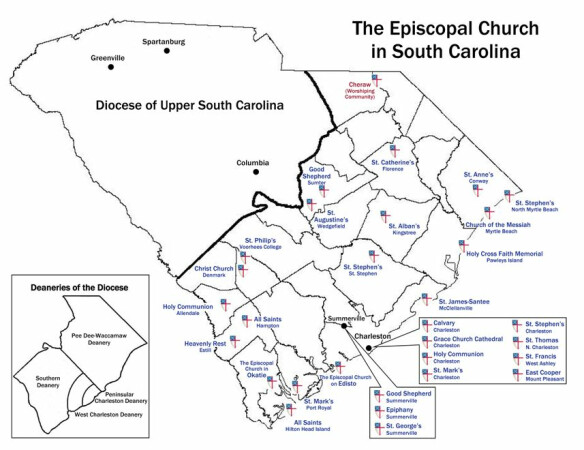 The diocese is still in "rebuilding" mode after some tumultuous events back in 2012, but we are growing rapidly and have every confidence that our witness to the gospel will continue for generations to come.

The powerful words of a beloved bishop of South Carolina speak poignantly to us as we continue to rebuild:

"We should strive for unity, not uniformity. Uniformity is mechanical, barren, unfruitful, and unprofitable. Unity is organic, living, and capable of endless growth. If we are to be truly catholic, as Christ himself is catholic, then we must have a church broad enough to embrace within its communion every living human soul."

The Right Reverend William Alexander Guerry
(1861-1928)
QUESTIONS?
If you ever have questions about any material you've come across, please don't hesitate to reach out.