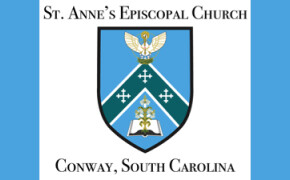 An explanation of what the symbols in the St. Anne's insignia represent.
St. Anne's has a new image that we hope will become a familiar sight around Conway. We think it tells the story of who we are and what kind of community we are striving to be.
The theme of the image sums up the mission of St. Anne's: "Spreading the Gospel, Growing in Wisdom."
The original concept for the image is the work of Barry Dennis, our verger and master of ceremonies. Barry's understanding of symbolism and his many years of service to the church helped him come up with a design that is meaningful and attractive.
The final graphic design work was executed - superbly! - by Jaclyn Miller (http://jaclynmillerdesign.com/).
| | |
| --- | --- |
| | Basic shape (shield with chevron) - Inspired by the coat of arms of St. Anne's College, Oxford. The chevron represents God's protection. |
| | Colors - Blue represents our location along the Waccamaw River and our proximity to the ocean; the teal in the chevron is the teal of Coastal Carolina University and conveys the congregation's connection with the university. |
| | The "Pelican in her piety" - An historic Christian symbol conveying the concept of sacrifice (a mother pelican will shed her own blood to feed her young if food is scarce). The greatest sacrifice is that of Christ on the cross; hence the prominence of the pelican. Also, the first members of St. Anne's had to sacrifice much to found the church, and we all continue to make small sacrifices in order to ensure that the gospel is preached to the next generation. The pelican appears in the original diocesan insignia, as well, so its inclusion is meant to convey that we are a part of the historic Episcopal diocese in South Carolina. |
| | Crosses - The crosses are the same type of crosses used on the Episcopal Church shield. The three of them represent our faith in one God: the Father, the Son, and the Holy Spirit. |
| | Lily - A traditional symbol of the Virgin Mary, the lily is also typically used in portrayals of St. Anne. Lilies are also a traditional symbol of the Resurrection. There are several references to lilies in scripture, but perhaps the best known one comes from Matthew 6: 28-30 ("Consider the lilies…"). There, the lily is a symbol of God's providence, reminding us that no matter what our future may hold, God is able to do more for us than we can ask or imagine. |
| | Open Bible - As Christians, we are grounded in scripture. According to tradition, St. Anne taught Mary, who in turn taught Jesus. The lily growing out from the scripture emphasizes this connection. |